Your Guide to Manufactured vs. Modular Homes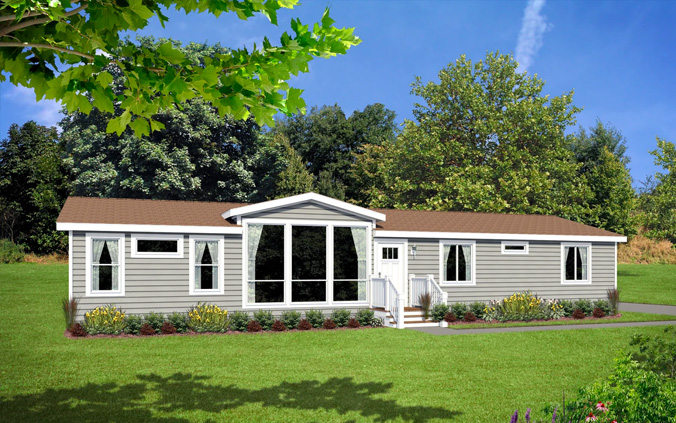 When it comes to prefabricated homes, there are several terms you might have heard to describe them. In this article, you will learn the difference between the two types of prefabricated houses: Manufactured vs. Modular homes. We will also look at what makes manufactured homes an excellent option, when compared to the other types of manufactured houses and how they compare to traditional site-built, or "stick-built" homes.
The Difference Between Manufactured and Modular Homes Explained
In the world of manufactured, factory-built, or off-site constructed homes, there are several words that seem to be interchangeable. However, manufactured, modular, and even mobile homes are all different things. Their similarities and shared histories, while interesting, have only added to the confusion.
What Manufactured, Mobile, and Modular Homes Have in Common: Prefabrication
The common denominator, and the reason why so many people think the terms are interchangeable, is that all three types of homes have been prefabricated off-site in factories and delivered to their intended destination in a more or less "plug and play" state. All of them are transported in pieces that require minimal onsite assembly, and are hooked up to utilities, which were existing or prepared in anticipation of the delivery and installation of the new home.
Are Manufactured Homes the Same as Mobile Homes?
So, is a manufactured home the same as a mobile home? Close, but not quite. Manufactured homes are of higher quality, built with better materials, and with more safety in mind, because of the ever-evolving standards set by the federal government.
Most folks have familiarity with the term mobile home. And it's quite self-explanatory. Or at least it was. Reaching back into the history of mobile homes, you'll find that they evolved from travel trailers, which became a popular, affordable housing solution after World War II. These travel trailers were used as temporary housing on military bases, and became a natural solution to address an affordable housing shortage thereafter. In time, these trailers grew in size and function. By 1976, mobile homes were rebranded as manufactured homes.
To further solidify the new name, the Housing Act of 1980 declared the term mobile home obsolete. All prefabricated homes fitting the legal description of mobile homes, built after 1976, were now officially manufactured homes. They also came under the regulation of the Department of Housing and Urban Development (HUD), which set new standards for their manufacture, to improve their quality and safety.
Modular Homes vs Manufactured Homes
Modular homes are built primarily off-site, but some assembly and finishing work is still done onsite. For example, they are placed on a foundation, making them more closely resemble a traditionally constructed home. Here are the four major ways modular homes differ from manufactured homes.
1. Building Codes
Unlike manufactured homes that are 100% factory-built, modular homes are built according to the same local and state regulations as a stick-built home. All of the same permitting requirements apply. And all the same potential for permitting delays.
2. Increased Design Flexibility
Modular homes can be built in a variety of configurations. Prefabricated sections, of different sizes and shapes may be fabricated offsite and assembled on site to produce a variety of home styles. This flexibility of design, however, can impact construction and transportation costs.
3. Property Restrictions
Modular homes can only be placed on owner-owned property and are considered permanent, and therefore real estate. As such, they may hold their value more, but are subject to the same market fluctuations as stick-built homes.
Manufactured Homes may be placed on your own property, so long as there are no HOA restrictions, or in a manufactured home park. The parks have the advantage of shared amenities like clubhouses and swimming pools surrounded by park-maintained landscaping.
4. Portability
Anyone with plans of moving with their home in the future, will be unable to with a modular home. It's not impossible, but it's not advisable or cost-effective. Moving a modular home may be easier to move than a stick-built home, but it is much more involved, and much more expensive, than moving a manufactured home, which has not been affixed to a foundation.
If you want to relocate with a manufactured home, once you have the new location secured, it's simply a matter of finding a paying a moving company that specializes in moving them.
What Makes Manufactured Homes Different
With an understanding of the differences between prefabricated homes, we can take a closer look at what sets manufactured homes apart from stick-built houses. In addition to being built to codes regulated by HUD, rather than local and state regulations that apply to site-built homes, there at least seven major ways that manufactured homes differ from those built on site.
1. Shorter Time to Completion
Compared with the construction time for a stick-built home, manufactured homes are built and ready to move into much more quickly. One of the main reasons for the difference in time is the permitting process. Homes built on site must be inspected by local permitting authorities at various stages of completion, with varying wait times. Plus, if something doesn't meet the inspector's approval, a fix may need to be made, with a return visit for the same inspection. A site-built home could also experience delays due to labor shortages, weather, wrong materials ordered, failed materials, etc.
Since manufactured homes are built in a factory to pre-approved plans and undergo strict internal inspections, they do not experience the types of delays inherent with a site-built home.
2. Construction
Manufactured homes are produced in an environmentally controlled factory, based on pre-approved plans. They arrive to their destination fully assembled, and once they are installed, manufactured homes are indistinguishable from a traditional site-built home.
These companies, like Fleetwood Homes by Cavco (est. 1965) and Skyline Homes (est. 1951), have the history and experience necessary to produce quality homes, which can be installed and quickly made ready for occupancy once delivered to their destination.
3. Safety
Since 1976, the construction of prefabricated homes has been regulated by HUD, to stringent standards with regard to safety and durability. In fact, these standards, not unlike those that dictate site-built homes, continue to evolve, always with the safety of the home's occupants in mind. As each section of a prefabricated home is completed, it is inspected and labeled with a red tag by a HUD inspector. This also includes fire safety standards. According to the National Fire Protection Association, as long ago as 2013, manufactured homes (not mobile homes) were declared no more at risk of fire than their site-built counterparts.1
4. Reliability
Factory-built homes, in addition to being built in a controlled environment, are made from materials that have been cut to precision by finely calibrated machinery and joined together by a construction crew that is highly specialized.
5. Customizations
Subdivisions are able to go up more quickly because they generally use only one to three floorplans for the sake of efficiency. Sometimes, the second one is just a mirror image of the first. They will have a number of options to choose from within the home, such as granite counter tops, upgraded carpet, choice of colors and materials for cabinetry, etc. When compared to a home purchased in a new sub-division, a custom manufactured home may have more floor plan and customization options.
Many manufactured houses offer customizable features that will exceed your options for a tract home, allowing you to add additional comfort, convenience, energy efficiency, and luxury to your new home. Many people are surprised to learn of the extensive list of elements of a new manufactured home that may be customized. They include the following and more:
Adding length, bedrooms, bathrooms, kitchen islands, skylights, and closets
Energy Efficiency upgrades to the insulation, HVAC, lighting, appliances
Type and color of kitchen cabinets, counter tops, backsplashes
Bathroom options such as tile, glass shower doors, double sinks
Type and color of floor coverings
Type and number of lighting fixtures
For a more comprehensive list of available customizations at Len's Home Center, read "6 Ways to Custom Design Your Manufactured Home," which includes several options within each room or category.
6. Cost
Stick built homes vary more widely in their costs, due to the wider array of materials (brick or wood, wood or vinyl siding, slate or terracotta roof, etc.) and regional differences with regard to material, labor, and permitting costs.
The standardized nature and the efficiencies of an assembly-line approach to construction reduces costs significantly, even when building homes. In the western region of the United States, according the U.S. Census Bureau's survey sponsored by HUD, the average number of square feet of a doublewide manufactured home was 1,794 in 2021.
Working with that size home, here's a rough estimate of the difference in cost between a manufactured home and a stick-built home, based on 2021 data provided by CoConstruct and the U.S. Census Bureau.
2021 Cost Comparison Based on 1,794 square foot Home in the Western U.S.
Cost of Traditional Site-built Home $585,5622
Cost of Manufactured Home $139,0083
Based on this information, you would be paying more than four times as much for a site-built home.
7. Mobility
Manufactured homes can, within HUD and local guidelines, be moved from one site to another. Ironically, mobile homes (manufactured homes built before 1976) can't. This is because they do not meet the stricter building requirements, and can be unsafe to move. In fact, older manufactured homes may not meet the age limit for local ordinances or transportation permits. And, if it's in poor repair, it may need to have some repairs done first.
When you add up site prep, permits, home prep, and transportation, it can cost $20,000 or more to relocate a manufactured home. A manufactured home mover will have a handle on local permitting issues and give you an estimate on the transportation costs. So, it's not inexpensive, but it is possible. It's also possible to move a modular home, or even a stick-built home. But those moves are rarely undertaken, and are almost always cost-prohibitive.
Find the Manufactured Home of Your Dreams at Len's Home Center
Now that you know the difference between different types of prefabricated homes, you can decide which is best for you. With all of the improvements made in the manufactured home industry, you can be assured that choosing a manufactured home will provide you and your family with a safe, affordable, customized, and comfortable home for your lifetime.
The professionals at Len's Home Center have been providing forever homes to families in Coos Bay and Coastal Oregon for 50+ years. In addition to being a trusted, local manufactured home dealer, we are licensed general contractors with experience with additional services, such as site inspections, zoning, permitting, installation, and more.
Let us help you choose and customize your dream home today! Contact us online, or peruse our many available floor plans and our gallery.
1 Report: NFPA's "Manufactured Home Fires," Author: John R. Hall, Jr., Issued September 2013
https://www.nfpa.org/News-and-Research/Data-research-and-tools/Building-and-Life-Safety/Manufactured-Home-Fires
2 According to CoConstruct, a home builder software solution company, the average cost per square foot for new home construction (site built) was $326.40 per square foot in 2021. https://www.coconstruct.com/blog/report-average-cost-per-square-foot-to-build-a-house-rose-in-2021#:~:text=While%20the%20size%20of%20new,ft%2C%20a%20%2485.80%20per%20sq.
3 U.S. Census Bureau MHS Annual Data, sponsored by HUD. https://www.census.gov/data/tables/time-series/econ/mhs/annual-data.html