6 Ways to Custom Design Your Manufactured Home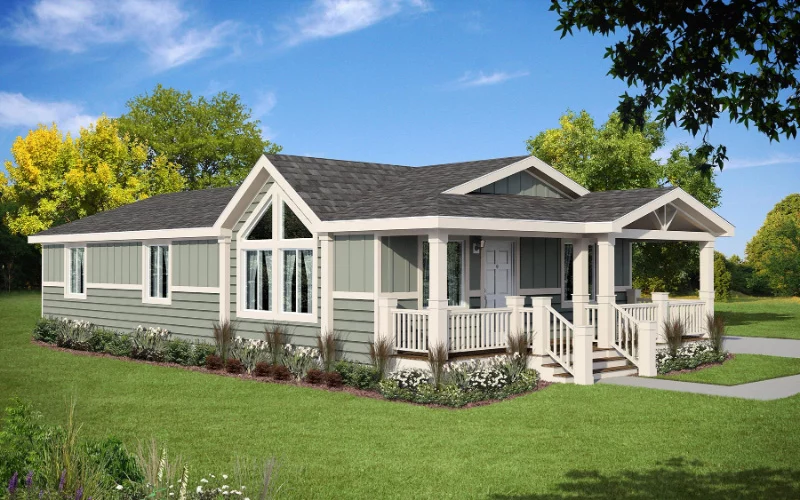 Custom Design Options to Make Your New Manufactured Home Uniquely Yours
Manufactured Homes have come a long way. Though they can technically be moved, as in the days when we called them mobile homes, today they more closely resemble prefabricated homes. The dozens of models available from manufacturers like Fleetwood and Skyline offer features that speak to comfort, convenience, energy efficiency, and luxury. Better yet, custom designing your manufactured home has never been so easy!
At Len's Home Center, not only can you choose from a wide range of unique floorplans and design options, but you can also personalize your own manufactured home design. We will guide you through the entire process, explain all your options, and help you find the best materials, features, and amenities you need to bring your custom manufactured home design to life.
We want to help you design a manufactured home that is personalized to your unique style and your needs. So, if you're ready to start building the home of your dreams, this guide is for you!
In this article, you'll find plenty of inspiration for designing your new custom manufactured home.
Floor Plan Design
Choosing a floor plan is the first step to making your dream home a reality. Fortunately, the industry has enjoyed an infusion of trending designs from many accomplished and talented architects and designers, providing a host of possibilities.
The most important things to consider when choosing the best floorplan for you are:
Number of bedrooms
Number of bathrooms
Square footage
Closet space
Storage Requirements
Customize Your Floor Plan
At Len's Home Center, we take floorplan designs a step further. We work with our clients to truly personalize every room. We can help you find the best room layouts for your needs, and even add amenities like walk-in closets, skylights, larger bedrooms, and more.
When browsing through floor plans, you may find the features you like in a larger or different model that you can mix and match to achieve your desired result. We can even make minor structural changes within the existing footprint, like "stretching," or increasing the square footage of your living room, kitchen, and bedrooms.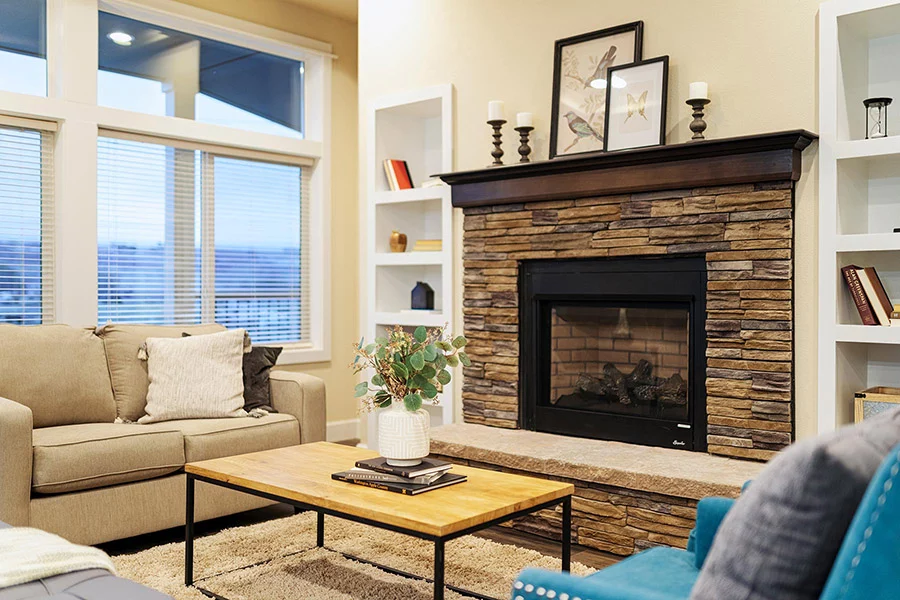 The following are some of the most popular manufactured home floor plan design modifications:
Fireplace Addition: Adding a gas or wood fireplace adds ambiance and makes the room cozier.
Room Stretching: Enlarging a smaller bedroom as a second master bedroom is an ideal option for households to accommodate more adults living together.
Skylight Additions: Adding Skylights brings in more natural light, which provides much-needed vitamin D, a mood boost, and is great for house plants.
Energy Star Upgrades: Energy Star insulation upgrades the insulation values throughout the home, which will decrease energy costs year-round. It may also qualify you for an additional rebate from your local power company.
Roofing Upgrades: Raising the pitch of the roof makes a huge difference in the overall look of the home, inside and out, giving it more depth and character.
Living Room Options
The living room is usually the first space visitors see and the place where many people spend a lot of time. For those reasons, comfort requirements and personal style lead the way when custom designing a manufactured home.
While your furniture and art will certainly make it uniquely your own, there are several ways you can accentuate your interior decorating by carefully choosing your favorite custom features first.
Lighting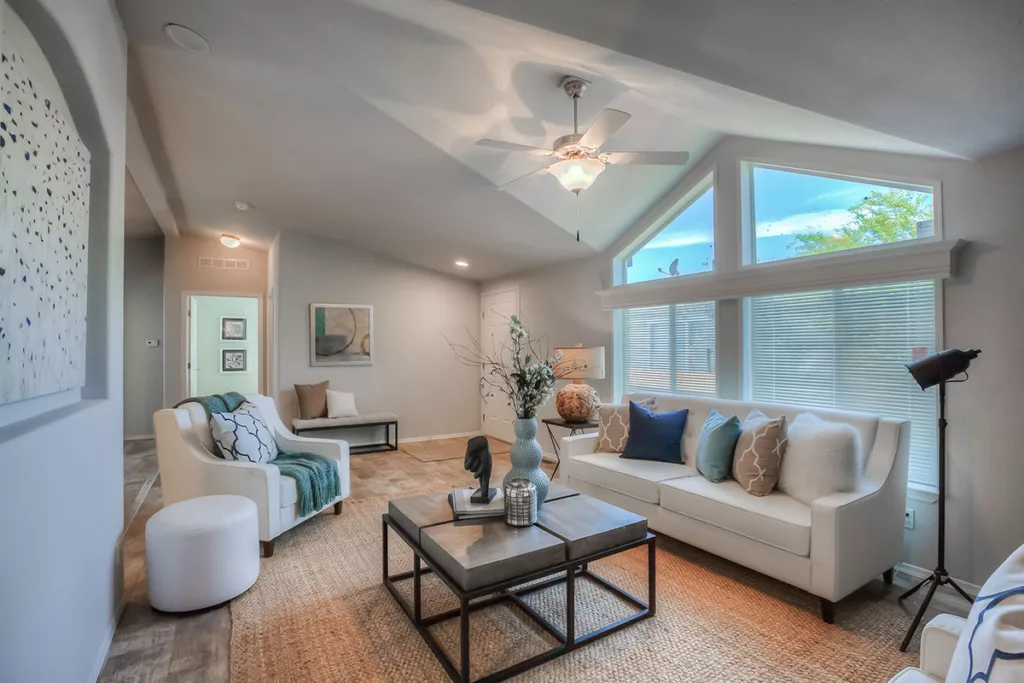 How you light your living room can set the mood of your entire home while also highlighting your personal interior design style. When planning your light requirements, an additional consideration will be the variety of ways you plan on spending your time in this room.
Here are a few lighting design ideas to get you started thinking about how best to light your living room, for maximum function, comfort, and energy savings:
Overhead: An overhead ceiling fan light fixture can illuminate the entire room with a soft glow. Plus, when you want it, the fan can help circulate warm or cool air throughout your home for added energy efficiency.
Recessed Can Lighting: For added task lighting, recessed can lighting with LED bulbs can provide extra illumination to specific areas of your living room.
Recessed: For some added ambiance, recessed ceiling lights with LED bulbs are a great addition to your living space.
Flooring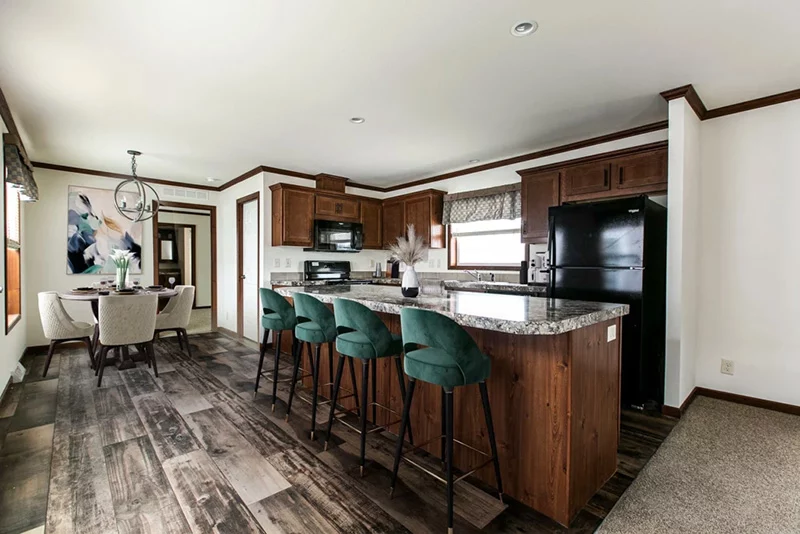 At Len's Home Center, we have a large selection of samples of the various types of flooring options, with everything from vinyl to thick-pile carpet. We can even arrange for your manufactured home to have after-market options installed like hardwood or other materials not provided by the manufacturer.
Here are our most requested types of flooring for our manufactured home designs:
Padding: Thicker carpet padding for added comfort and durability.
Faux Hardwood: Light wash, faux hardwood is a beautiful flooring option that is in high demand.
Laminate: For its durability and ease of maintenance, laminate flooring is a great option for new homes.
If you don't see what you want, always ask. Again, you're designing the custom manufactured home of your dreams!
Kitchen Options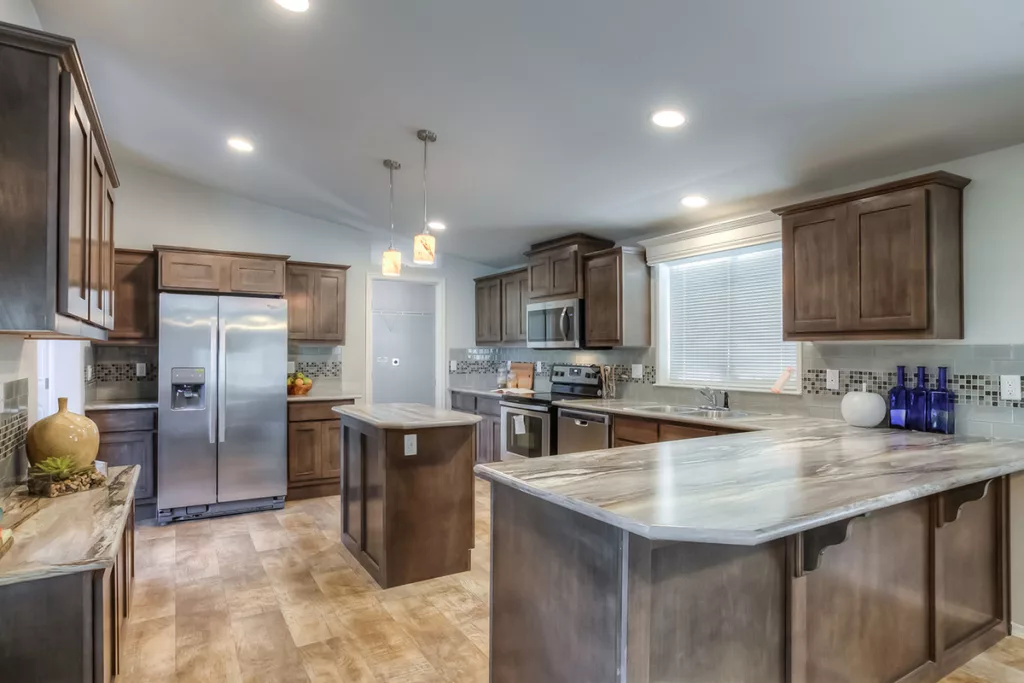 Your kitchen is truly a multifunction room. For most homeowners, the kitchen is where you start and end your daily routine. This makes it important to make sure your kitchen has adequate storage, a practical layout, and of course is attractive and stylish.
These are the most often requested options in kitchen design:
Cabinets: White Shaker-style cabinets have become very popular and certainly brighten up the space and gives a welcoming feel.
Countertops: Granite countertops look elegant and, because they're essentially a flat rock, take a beating way better than the alternatives. They don't scorch or etch, and when properly sealed, they resist staining and are easy to clean.
Backsplash: Tile backsplash or tile between the counter and cupboards is often requested for a more retro look, which is also an earth-friendly, natural material.
Hardware: Upgrading the cabinet hardware is an easy way to customize the look of the kitchen.
Appliances: Larger refrigerators and ovens are major must-haves for many new homeowners. Especially when shopping at warehouse-type stores where everything comes in larger containers, what seemed like a large refrigerator starts to feel cramped. This is one place where a few extra cubic feet matter a great deal.
Kitchen Islands: Adding a kitchen island is a must, if you do lots of cooking, for the added work surface and storage. They can also come with electrical outlets, so you can easily plug in your smaller appliances.
Bathroom Options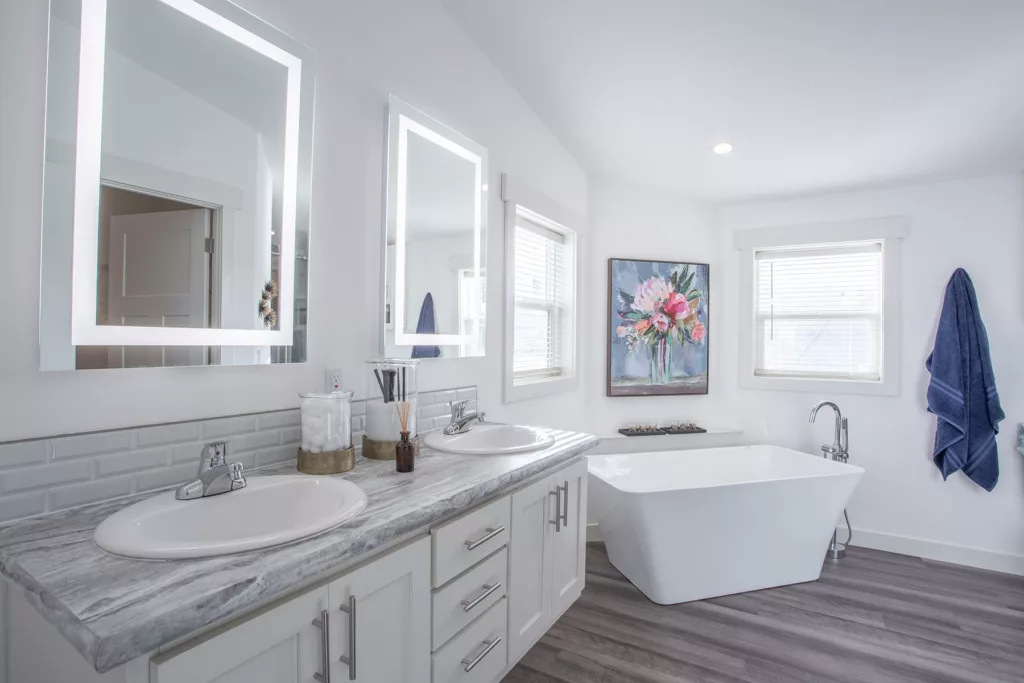 Bathrooms are where luxury design and functionality meet. Have you always wanted a bathroom with a claw-foot tub with a lovely view? Or how about a sunken tub and a shower in the same bathroom? Ample natural sunlight? You might be surprised to learn that these are all possible with many manufactured home models.
Consider these bathroom features for your custom manufactured home:
Sinks: Adding a double sink to your master bathroom is a great option for couples and busy households.
Showers: Choosing glass shower doors adds elegance to the space.
Tiling: More and more homeowners are choosing to tile their bathrooms due to their durability, versatility, and ease of maintenance.
Skylights: Adding a skylight to a bathroom is the perfect way to brighten up the space and make it feel bigger with beautiful natural lighting.
Bathtubs: Adding a bathtub with soothing massage jets to your bathroom makes prioritizing your wellbeing easier than ever.
Exterior Design Options
Our team at Len's Home Center understands the importance of being able to personalize the outside of your new home as well. This is why we will also help you find the best colors, siding options, and fixtures. Our manufactured home dealers also offer additional services to help with auxiliary projects, such as adding a garage, paving driveways, and creating walkways.
Exterior Colors
We will provide you with a design board of all the color options for your home. When perusing the colors, it's good to keep in mind any existing landscaping on your property. You'll also want to look at the color samples in daylight to really get an idea of how they will look on your walls.
Windows, Doors, and Porches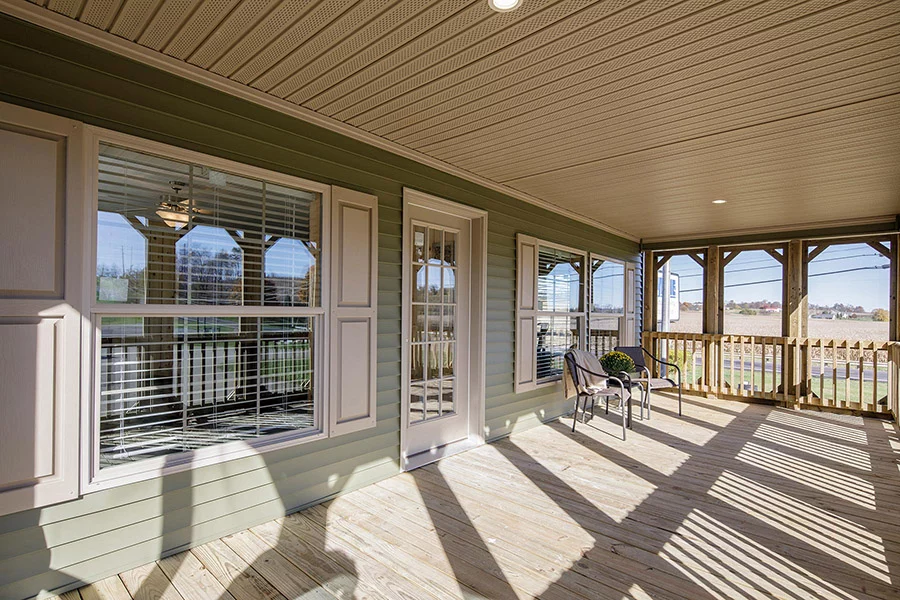 The entire exterior of your home can be greatly enhanced with simple changes to your windows, and doors, or the addition of a porch. These modifications will not only boost your curb appeal, but they can also increase your overall comfort and happiness in your new home.
Consider these features to instantly boost your manufactured home curb appeal:
Covered Porch: Adding a covered porch is like adding an additional outdoor room to your home. Your living space will be brighter, and your household will have a safe area to enjoy the outdoors without even leaving your property. It's also a great way to meet your neighbors as they stroll by.
Doors: Adding a sliding glass door to your home or accenting your entryway with custom colors or materials are both great options for boosting your home's curb appeal.
Windows: Modification to your windows and window placement can enhance both the exterior and interior of your home.
Siding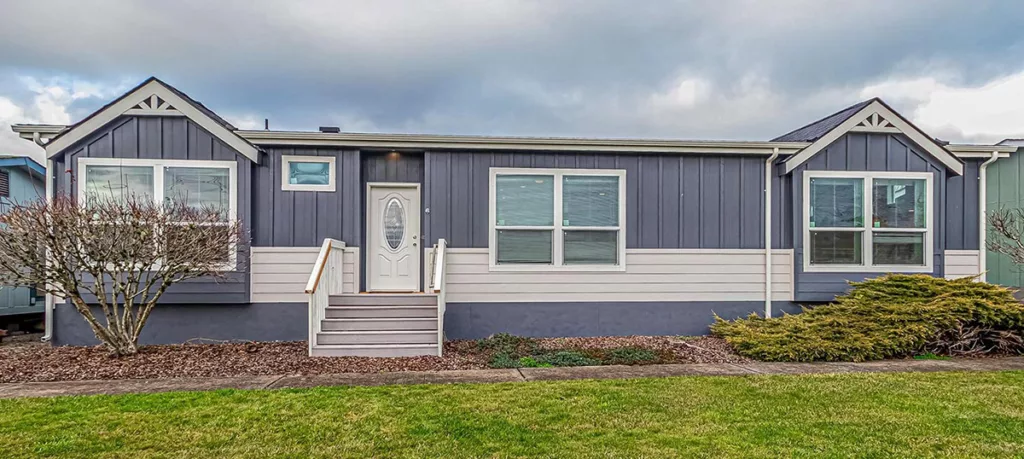 If the standard board siding that comes on most manufactured homes isn't quite your style, we can help you find the perfect alternative for your new home. We have multiple distinctive siding choices you can choose from to personalize your home's exterior. A popular option is Board and Batten siding, which gives the exterior more depth and adds a beautiful farmhouse styling with its horizontal strips breaking up the vertical boards.
Driveways, Walkways, and Garages
At Len's Home Center, we are proud to be a licensed general contractor. In addition to helping you find the home of your dreams, our team can also provide additional services to equip your manufactured home with features such as:
Driveways
Site Prep
Excavation
Walkways
Garages
Porches & Decks
And More
Energy Efficient Features
There are many ways to make a manufactured home more energy efficient. One of the many reasons Oregon homeowners choose Len's Home Center is to take advantage of our Energy Star Package. This offer is perfect for anyone looking to make their home more energy efficient and save money on monthly utility bills.
Energy Star Package
When you choose to take advantage of our Energy Star Package, your new manufactured home will come with Energy Star certified insulation for extra energy efficiency and maximum protection from drafts. Many homeowners who choose to make their new manufactured home more eco-friendly with our Energy Star Package are even eligible for energy rebates!
Lighting
Another energy-efficient feature to consider opting for is LED lighting throughout your home. When compared to traditional bulbs, LED lights use up to 90% less energy and produce significantly more light.
HVAC
Adding a smart thermostat helps save energy and keeps the home more comfortable. You will want to choose your fuel based on the availability and prices where you live. In the Pacific Northwest, for example, hydroelectric power is abundant, making electricity the better choice. It's also a better choice than gas, if you have plans to add solar now, or at any time in the future.
Ceiling Fans

Ceiling fans help reduce the need for heating and cooling year-round by keeping the air circulating. According to the US Department of Energy, adding a ceiling fan to your home can allow you to raise your air conditioner's temperature settings by as much as four degrees, without losing comfort.
Energy Star Appliances
Choosing Energy Star appliances for your new manufactured home will ensure your household enjoys huge cost savings year after year. Plus, participating in local incentive programs and government rebates can make going green even more affordable.
Design the Manufactured Home of Your Dreams with Len's Home Center
At Len's Home Center, we understand that purchasing a new home is a big decision, and we want to make the entire process as simple and stress-free as possible for you. Our team has over 50+ years of experience helping local families find their dream homes. As licensed general contractors, we can also provide additional services including site inspections, zoning, permitting, installation, and more.
Take the first step towards making your dream home a reality by contacting your local Manufactured Home Dealer at Len's Home Center today.